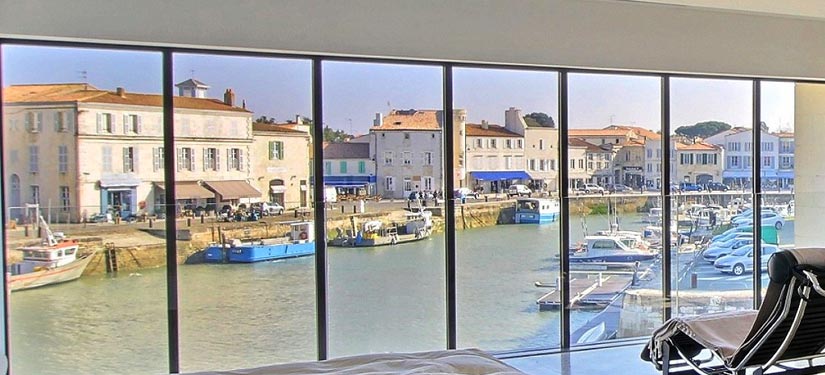 Ile de Re: Xynthia dried up the real estate market
At Ile de Ré, also, the housing market stalled
La Rochelle, you have to cross endless activity areas and pass the toll expensive (8 euros in winter, EUR 16 in summer) to access the bridge to the island of Ré. After this concrete serpent, built in 1988, the change of scenery is total: dunes and beaches of sand out of sight against the gray-blue background of the ocean. 'I have never seen anything more exotic', wrote the painter and writer Eugene Fromentin La Rochelle. He added: 'We could carry this side of the world in any hemisphere, assuming there Vessel off by carefully reviewing this beautiful and dangerous bay, addressing them somehow and discovering a deserted island .. . '
Tourism requires the 'desert island' has become over time a strong popular holiday resort and very expensive. From the 1980s, 'Ré the White' has been taken over by wealthy families from all over France, Ile-de-France in mind. According to INSEE, over 50% of properties situated on the Ile de Ré are second homes!
Here too, however, the housing market stalled. The fault lies with the terrible storm Xynthia, which hit the island in 2010. Combined with intensive tide has flooded inland and devastated many seaside houses . Three years after the disaster, a coastal risk prevention plan (LPRP) establishing new planning rules, which take account of increased risks of coastal flooding, was established by the state. To the chagrin of the island elected, because more than one third of the territory was placed inconstructible area. To date, 50 construction permits have been refused. Worse, many individuals have lost big: they bought at exorbitant prices become inconstructibles land and whose value, in fact, collapsed. A new risk map projection is being prepared at the prefecture.
Real estate agencies, craftsmen, architects, employees of the building ... with the construction freeze, any part of the island's economy entered into lethargy 'says Jean-Jacques Massé, manager of West Re Agency. With the increase in tax on real capital gains on second homes, some owners withdrew their property from sale, dropping a little trading volume.
The construction freeze particularly affects the Gates section, in the extreme north of the island, which was hitherto a preserve of real people. It is here that hovel of 51 m2 with 1 single room, with a small plot of 207 m2, has been sold to 296 800 euros. Further south, in Ars-en-Ré, a former fishing village where it is not unusual to see Philippe Sollers, Fabrice Luchini and Lionel Jospin, a house of 63 m2 with a plot of 135 m2 has sold 349 800 euros. Not far from there, a house of 93 m2, with paved courtyard and garage, reached 330,000 euros. A magnificent house of 128 m2, comprising not less than 7 rooms, with a land of 1900 m2, has it, was purchased for a whopping 1.27 million euros. When one loves, one does not count ... A few minutes by bike from there to Saint-Clément-des-Baleines, a small house of 60 m2 with a plot of 132 m2 is party to 299 000 euros.
Less exposed to risks of flooding, closer to the mainland and much more urbanized, the south of the island real estate is experiencing more intense activity. Located five minutes by car from the bridge, the town of Sainte-Marie-de-Ré has the wind in its sails. In this village, a house of 95 m2 with 3 bedrooms, with a small plot of 400 m2 facing south, has sold 402,000 euros. A little further, a property of 200 m2 decorated with a garden of 400 m2 is party to 380 000 euros. Large repairs were expected.
A 5kilomètres north of St. Mary, facing the ocean, is the village of La Flotte-en-Ré. A beautiful fisherman's house, with an area of ​​90 m2, it was purchased 413 thousand euros. At La Couarde-sur-Mer, where 80% of the territory became inconstructible, apartment of 32 m2, conveniently located between the beaches and shops, in a residence with pool, went to 178 000 euros (5560 euros per square meter) . Finally, in the heart of Saint-Martin-de-Ré, the historic capital of the island, a charming hovel of 34 m2 was sold for 255,000 euros. Much more chic, an eighteenth century house, with an area of ​​190 m2, with 5 bedrooms, has it sold 639,000 euros. Does not become rétais who wants ...
© L'Express - published on Barnes Ile De Ré on 21/05/2015
Read this article in its integrality by clicking on the following link:
http://www.lexpress.fr/actualite/immobilier/ile-de-re-xynthia-a-asseche-le-...