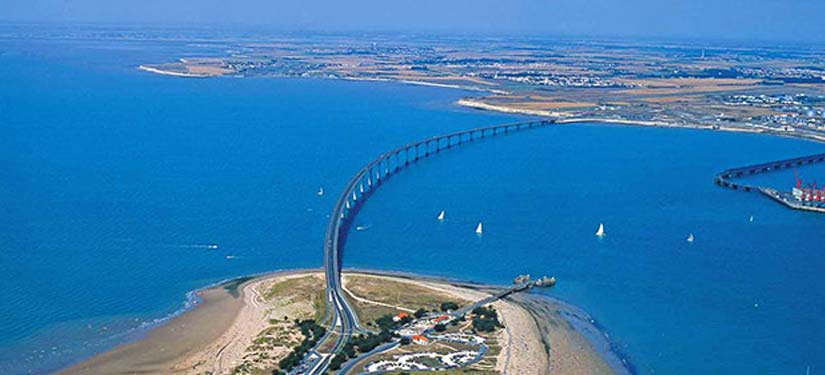 Ile de Re: coveted Icon
The Atlantic coast of the islands, it is the most famous and continues to attract the secondary and main buyers, despite continued high prices.
STATE OF PLAY.
There are islands that history and heritage will confer difficult to avoid. This is the case of Re, territory stretching twenty-six kilometers long and five wide, dotted with villages with low white houses and blue shutters, typical of the local architecture.
This harmony is coupled with other undeniable strengths: nearly one hundred kilometers of coastline, half of beaches, an ideal flat landscape for cycling, strong sunlight, such a remarkable heritage lighthouse of Whales and St. Martin- en-Re, fortified by Vauban, fishing ports ... all wrapped in an atmosphere of tranquility as soon as one moves away from the village centers. For Ré lives off tourism and do not complain (hundred and fifty thousand inhabitants in summer!). Since the bridge opened in 1988, access to the island is easy. Re is located in front of La Rochelle, a city linked to Paris by plane and TGV in three hours.
A measure that is attractive price, markedly higher than the neighboring island of Oléron. The average budget for a home (most of the housing stock) blithely exceeds 500 000 euros - for an area of ​​120 m² - with much higher peaks, sometimes more than 8000 euros / m² in the villages of Ars- en-Re, Portes-en-Ré Loix, west. However, it is possible to acquire small areas of 50-70 square meters, rare and highly sought after, for about 300,000 euros. The choice of the nine have been tempting. But the latest programs delivered were expensive, between 690 000 and 830 000, and grounds are now frozen since the approval of Scotus. Re will remain a high-end market, turned to the former and renovation.
SCOT, RULE OF 80/20.
Initiated in 2009, the territorial coherence plan (Scot) of Re was conducted by the Island Community of Municipalities and is definitely entered into force in December 2012. It contains a strong principle whose implications are major for the property market : stop urbanization (excluding public facilities of general interest). The Scot established to respond to the development of the island in 2020, takes account of insularity and attendance, which should not upset the economic, social and ecological interests. Hence the choice of a key measure: 80/20, 80% of preserved natural and agricultural areas and 20% urbanized. The ten of the island have their side launched their local development plan (PLU), applying the principles of the Scot. The latter came into review in July 2013 to meet the new requirements of the Grenelle Environment II.
© Logic-Immo - published on Barnes Ile De Ré on 22/05/2015
Read this article in its integrality by clicking on the following link:
http://www.logic-immo.com/actus-immobilier/2014/05/09/ile-de-re-icone-convo...